Since we focus on preservation of flat paper items, the paper lab receives some of the most unusual items from the libraries.  As a collector and playing card afficionado, I was delighted when we received several incomplete decks of Persian Âs Nas cards from the Lilly Library for treatment.
Âs Nas, the probable predecessor of modern Poker, reached the height of its popularity in the Seventeenth Century.  The cards are slightly smaller in size than modern playing cards, and were usually hand-painted on cardboard and then lacquered, making them somewhat thicker than modern cards as well.
The layer of thick, tacky lacquer on each card was causing them to stick to each other, so we needed a housing solution that kept the cards separate from one another.  Since the backs of the cards are blank, it wasn't of utmost importance that the back be visible, but we did want them to be accessible in case a researcher needed to examine them.
The cards were carefully measured, put in order by size and with the help of Herb McBride and our handy Kasemake box-making machine, we designed custom trays made of matboard with a bed for each card.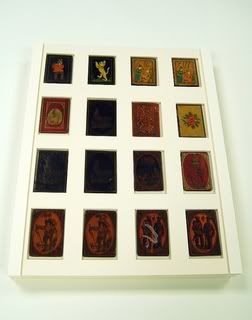 Once the cards were put in place, Mary Uthuppuru suggested making sliding mylar windows, to keep the cards secure while still allowing for removal if necessary.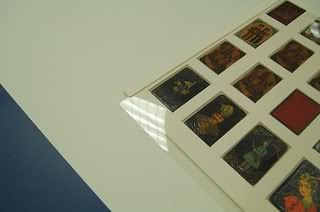 Now the cards can be stored flat in a custom clamshell box.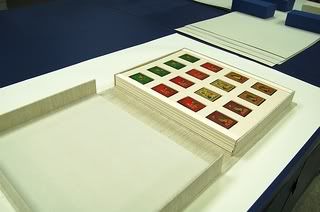 More information about Âs Nas can be found here.
– Nicole Wolfersberger, paper lab technician