Isao Takahata (1935- ), alongside Hayao Miyazaki, is one of the founding directors of Studio Ghibli, the anime studio that is best known in America.  He began his career at Toei Animation on a whim and soon began working as an animator, assistant director, and full director before moving on to other anime studios, including A Production, Nippon Animation, and Tokyo Movie Shinsha.  He eventually began working with Miyazaki at Studio Ghibli, where he has worked since 1985 and recently released the film The Tale of Princess Kaguya (2013).
Takahata had a rough early start with directing feature-length films, as his first film, Hols: Prince of the Sun (known as Little Norse Prince Valiant in America) (1968) was a commercial failure that saw him and some of the production staff demoted.  Despite this initial failure, though, Hols would set a precedent for anime to include dark themes and multidimensional characters, and it has been hugely influential within the anime industry.  Set in Iron Age Scandinavia, this film follows Hols (or Horus) as he sets out to avenge the destruction of his family's ancestral village by the sorcerer Grunwald.  Hols and Hilda, a mysterious girl he meets with a beautiful voice, are archetypes for many main characters within anime, and Hols's battles against fantastic creatures set the visual groundwork for many anime to follow.
After Hols, Takahata mainly worked in television through the '70s, beginning with Lupin the Third Part I (1971-1972), a show about a master thief's adventures across the world as he constantly escapes the the pursuit of the police.  Takahata collaborated with Miyazaki on this series, and it has become a classic in Japan that's spawned many films and spin-off shows since.  Takahata also directed several shows under the World Masterpiece Theater banner, including Heidi, Girl of the Alps (1974), 3000 Leagues in Search of Mother (1976), and Anne of Green Gables (1979), all of which adapt classic children's novels.  Though these World Masterpiece Theater shows have never been released in Britain or America, they have seen extensive releases throughout much of Europe and have been dubbed into several other languages.
In addition to creating many TV series in the '70s, Takahata also directed Panda! Go, Panda! (1972) and The Rainy-Day Circus (1973), two shorter films that were written by Miyazaki.  These lighthearted adventures follow the young girl Mimiko as she befriends the baby panda Panny and his father, PapaPanda.  Because Mimiko doesn't have a human family, PapaPanda and Panny decide to become her family, and from there the trio navigates life together as a new human-panda family.  These films shows many elements that made it into Miyazaki's My Neighbor Totoro (1988), such as the iconic character designs of the pandas and Mimiko's appearance and personality.
Takahata's first film for Studio Ghibli, Grave of the Fireflies (1988), is also his best-known for its sombre take on World War II.  With his father off at war and his mother ill, fourteen-year-old Seita has to care for his child sister Setsuko during the firebombings of Kobe in 1945.  The two face constant hardships as they fight to survive, including environmental factors and human elements.  Grave of the Fireflies unflinchingly depicts war's effects on civilians, creating an intense emotional experience that will change how you think about the narrative capabilities of animation.  Despite the distinctly heavy and realistic subject matter, Grave of the Fireflies wouldn't be the same in a different medium.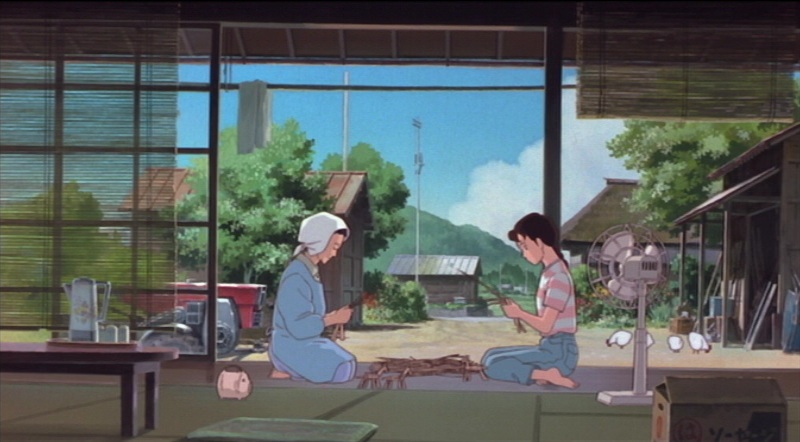 Takahata's next films continue to explore adult themes, especially Only Yesterday (1991), which approaches childhood and adulthood from the perspective of a twenty-seven-year-old.  One summer, Taeko decides to leave Tokyo and visit the countryside to help with the safflower harvest and live a simpler life for a time.  Over the course of the summer, Taeko reminisces on her early adolescence and ponders whether or not she's doing what she wants with her life.  Taeko looks at her childhood nostalgically and critically by turns, examining how it made her the adult she is and deciding how she should move forward in the future.  Though Only Yesterday is definitely not a children's movie, it is an excellent film that could be enjoyed by adults who reflect on the past as well as how they can reshape who they are as adults.
Pom Poko (1994) sees Takahata take on environmentalism through the eyes of tanuki, Japanese raccoon dogs that traditionally are believed to shapeshift into objects or other creatures at whim.  When construction threatens their home forest, the tanuki of the Tama Hills near Tokyo decide to use all of their abilities to intimidate humans and stop construction in the area.  Despite the amount of humor and over-the-top transformations, Pom Poko looks seriously as the problems urban development causes for indigenous animals and doesn't sugarcoat the conclusion.  This frenetically-paced film is a loud, explicit wake-up call for viewers that encourages humans to think more about the environment before continuing to destroy it.
In his two most recent films, Takahata turns away from traditional animation techniques in favor of a looser, watercolor-influenced style.  My Neighbors the Yamadas (1999) differs from other Takahata films in another way, as well: instead of having a cohesive main narrative, Yamadas consists of short, humorous vignettes that reflect the story's origin as a series of four-panel comic strips.  This film is probably Takahashi's least popular effort since Hols, considering the unusual visual style and narrative flow, but it is a unique piece that has a great deal to say about families.  Yamadas fits between Takahata's previous works as a humorous tale for adults that reflects on the realities of being a family with a good dose of humor.
Finally, Takahata recently released The Tale of Princess Kaguya (2013), a retelling of the Japanese fable The Tale of the Bamboo Cutter.  A bamboo cutter finds a small girl in the woods and takes her home to his wife, where the two raise her as their own.  Excited by her extraordinary beauty, the couple takes the girl to the capital in hopes of arranging a good marriage for her, perhaps even with the Mikado himself.  The girl, renamed Kaguya for her shining beauty, navigates through this world of false grandeur while the film satirizes human vanity and materialism.  The art direction in this film pulls from the Japanese watercolor painting tradition, with characters delicately drawn and appearances and line weight effortlessly shifting to reflect tone and emotions.  The Tale of Princess Kaguya has not yet been released stateside, but it should see a theatrical release in the United States later in 2014.  Considering Takahata's age, Princess Kaguya could be his last animated feature, so catch it in theaters if you can, and take this chance to begin exploring his diverse oeuvre.