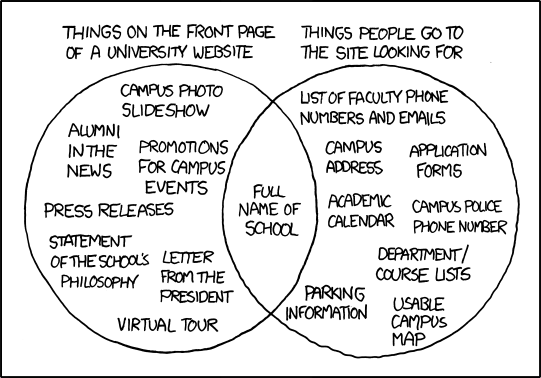 I presented a workshop on "Writing for the Web" at the Libraries' In-House Institute in early May. While I could certainly go on and on about this subject, here I will just provide a quick(ish) wrap-up and share my list of suggested readings. (You can find my slides and reading list at https://iu.box.com/s/3665524cdd7bf24464c9.)
Clear communication is essential to delivering an excellent user experience, which is why we have a Website Editor (me!) in the Digital User Experience department.
Writing for the web includes a broad range of strategies:
Style/usage (and careful proofreading – typographical errors impact our site's credibility)
Understanding user needs
Content strategy
Who's reading your content?
Who are you writing for? Different audiences respond to different terminology, tone, context. For example, if international students or stuffy faculty members are part of your expected readership, you probably want to avoid slang.
Context. Where are your readers in the research process? What have they already read?
Metrics can help you understand your readers – in the Libraries we use Google Analytics and Crazy Egg.
How are they reading your content?
People read differently on the web. They scan pages quickly.
LESS IS MORE – don't bury the important content in filler
Mobile devices are heavily used, especially by college students. Will your content work on a smartphone or on a tablet? Does it need to?
Content may be repurposed. It might be included on a class page, listened to via a screen reader, shared on Facebook or Pinterest, maybe even (gasp!) printed out on paper.
Content structure and metadata make it easier for your content to flow into these various containers. Improved content management systems make this easier to accomplish.
Some practical suggestions.
Content Strategy!
Kristina Halvorson: Content strategy plans for the creation, publication, and governance of useful, usable content.
Plans – there is an overall plan for how content is created, stored, displayed, used and reused
Creation – style guide, training for content writers, metadata strategy
Publication – editorial strategy/workflow, appropriate use of metadata to help identify, organize, and reuse content
Governance – responsibility for content is clear; standards are communicated to content providers; content management systems are optimized to help writers provide well-managed content; search systems and info architecture are optimized to help users find and use published content; content lifecycle is defined so that content is regularly reviewed (ROT analysis: Redundant, Outdated, Trivial)
Useful content – we understand our users' needs and provide content that helps them to further their goals
Usable content – content makes sense to our users; they can find what they need and they know what it is when they find it; it is placed in appropriate context for them
To sum up: We need to talk to our users and listen to them so that we understand why they are here and what they need to do. We can then create calls to action that make sense to our users and help them fulfill their goals.
Suggested Readings: